100th Anniversary Celebration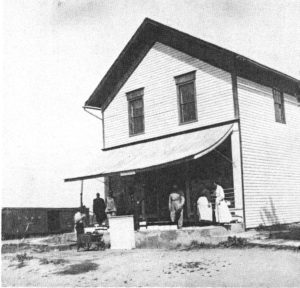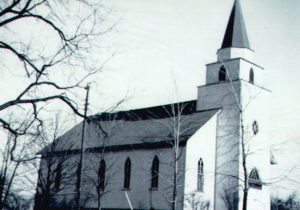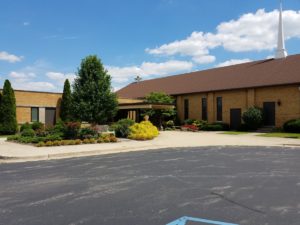 For a full overview of our church's history please click here.
'100 Years Cultivating the Lord's Harvest'
November 2019 Update
100th Anniversary Greetings!
We had such an enriching 100th anniversary service last month – – and a great culmination to our year-long celebrations. Brother Jon Bendewald shared interesting stories of our connection to Trinity St. Joe and Pastor Nuechterlein, who started our mission church. He challenged us to cultivate our own Christian faith and passionately dedicate ourselves to sharing our faith with others . . . as we look forward to the Marriage Feast of the Lamb. We were also privileged to have Trinity St. Joe's choir and brass fill the church with grand music to praise our God. Very memorable – – and thank you for celebrating with us.
Many thanks also to everyone who shared their cherished wedding photos and beautiful wedding dresses with us. The history of weddings in our church helps to put 100 years in perspective . . . as we connect the generations and member families. Very enjoyable!
History Book
We are now busy at work on our 100th Anniversary History Book. We have locked down the Table of Contents and gathered lots of information. Writing is underway, as Sara Seyfred leads us through this activity.
A Piece of our History – Pastor Liebich
As part of our celebration over the past year, we've recalled the history of our beginnings . . . our mission church, building of our first church, the Christian day school, volunteers building the parsonage, the start of Ladies League and our adult Bible Class and Sunday School, planning our current church and educational facility, etc. Every pastor, teacher and member formed our rich history, all built on the Word of God and His sacraments. It's easy to see, yet incomprehensible, how God carefully planned and wove all of us together to be Trinity Evangelical Lutheran Church of Glendora. And now as we look to our future, we are thankful that God has chosen Pastor Liebich to lead us into our next century.
I asked about a dozen of our members to share some of the special memories, stories, and attributes they treasure about Pastor Liebich, since he capped the last 6 years of our celebrated first century. Of course, I waited for his call decision before I gathered input – – to make sure it was a happy time.
Pastor Liebich never misses a chance to share the Word of God with whoever he comes in contact with. After going to Woodland Terrace to visit with a Trinity member, he decided that this would be a good place to do just that. After approval from Woodland Terrace, he began holding a monthly service for the residents in their community room. The numbers grew with each passing month with residents, their family members, some staff, and a few members from Trinity in attendance. A worship folder with songs, confession and absolution, the Apostles Creed, and the Lord's Prayer is distributed to each person. A sermonette is lovingly presented by Pastor Liebich. The service lasts for about 45 minutes and touches the hearts of all who are there to hear the Word of God and the love of Jesus Christ, our Savior! We are so blessed to have him as our Pastor.He knows God's Word! He has taught me, even at an advanced age, things I never knew about the Bible.
I like that he is approachable.
Prior to my surgery, he was at the hospital with me. Prayers were offered and he chose a verse for me with a 'rock' in it. Sharing and caring in so many ways.
I like that he is human and not afraid to show emotion.
He has entrenched himself in this farming community in many ways. His 'farm garden' and learning to drive the big tractor are evidence of that.
I love sitting in church and being able to absorb every word in his sermons because they are so interesting and inspiring.
He has a strong sense of family – – his own, as well as his flock.
When my step-granddaughter died, he was there in my support at the wake and at the funeral. He shares joy as well as sorrow.
He is able to connect so well with the children and young people in our congregation.
I like that he gives hugs and you can hug him.
I love his children's messages – – they are good for us adults.
He puts so much creativity into his services and helps us really connect the old and new testaments.
I love leaving church each week enthused & inspired about hearing the Word of God.
I love that he sings with us in the choir.
I believe that he was destined to come to Glendora and has brought growth to our church.
This photo is my special memory. I can't think of a better pastor to lead our church into our next 100 years. This is who we are – – small town folks and country farm people.
I love that Pastor Liebich has embraced our small rural community and become so much a part of it. It is great that he started the 'bring your tractors to church' day and it is wonderful to see him enjoy it as well.
A church is so much more than just a place or a building. It is the pastor that sets the tone for the church, the love for our Lord, the friendliness, compassion and enthusiasm that flows out into the congregation. Pastor Liebich exudes all of those things and more.
He has a light-hearted side – – and can enjoy laughter, at himself, as well as shared with others.
We are so blessed to have him here to lead us.
He knows and loves his church family.
It's even fun to watch him enjoy his beloved St. Louis Cardinals . . . and his most recent 0-4 day of mourning.
We love having him as our Pastor! What a treasured servant of God that loves our Lord, can relate to anyone, is passionate about the work of the church, appreciates family, likes to laugh and have fun, and has faith that is inspiring.
So, Pastor Liebich, we thank God for you! We are blessed that you are here to lead us into our next 100 years.
Looking Forward to our Next 100 Years
This ends our 100th Anniversary celebrations . . . but that's not the end of the story. God has plans for us to continue Cultivating the Lord's Harvest and, together, we will build the story of our next 100 years. "For I know the plans I have for you", declares the Lord . . . Jeremiah 29:11. We are tasked to continue our work in God's kingdom, Praising God and sharing the Joy of His Love, as we compassionately care for one another. I am excited to see God's plan for Trinity Glendora unfold over our future years together. Thanks for the opportunity to celebrate this milestone together!
Many thanks to Pastor Liebich and our 100th Anniversary Committee for a memorable year.
In Christ's Love –
Tris Vigansky
– T o G o d B e t h e G l o r y –