Pastor's Message
"For God so loved the world, that he gave his only Son, that whoever believes in him should not perish but have eternal life." John 3:16
Dear brothers and sisters in Christ,
As we enter the summer months, we are taking a little break from our Sunday and Thursday morning Bible Studies, but I have a little study for you to do on your own. May 30th was Holy Trinity Sunday and in the children's message that week, we looked at the symbols for the Trinity on the back of our hymnal. There is a hand (for God the Father), a cross (for God the Son), and a dove (for God the Holy Spirit). I included a picture here that is similar except that it has a crown of thorns instead of a cross for God the Son.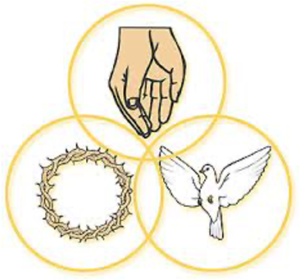 For this article written for the month during which we celebrate Father's Day, I just want you to ponder the symbol of a hand (or hands) for God the Father. What does God the Father do with His hands?
I am going to give you a long list of verses to look up. Don't look them all up at once. Take one a day for the month or look up a few at time, and take a few minutes to ponder each one. After you think about what the verse says, (you may want to read the verses around it as well) say a prayer that responds to the verse. I will give you an example: Isaiah 64:8, "But now, O Lord, you are our Father; we are the clay, and you are our potter; we are all the work of your hand." After thinking about what it means that the Lord, who is our Father, is like a potter and we are his clay, a prayerful response might be, "Dear Lord my heavenly Father, how vast are your thoughts and how skilled are your hands! In your wisdom you have made me and all people. Help me to love all that you have made. When I fail to carry out the purposes for which you have made me, do not forget that I am yours. Have mercy on me and reach out to me with the nail pierced hands of Your beloved Son. Fill this vessel with your Holy Spirit always. In Jesus name I pray. Amen." If you are an overachiever, you may want to write out each verse, your reflections on the verse, and the prayer you wrote and make them into a journal. If that is not your cup of tea (It is not mine!), just read the verse, think about it, and say a prayer on the spot. Here is the list of passages I have for you: John 10:27-30, Isaiah 48:13, Psalm 63:8, Ezra 8:21-23, Ecclesiastics 2:24-25, Isaiah 41:10-14, Jeremiah 18:6, Psalm 16:8-11, 2 Chronicles 20:6, Exodus 15:6, Habakkuk 3:4, Psalm 104:27-28, Psalm 118:15-16, Isaiah 66:2, Psalm 98:1, Isaiah 40:12, Nehemiah 2:8, Romans 8:34, Psalm 139:10, Exodus 33:21-23, Psalm 31:15, Daniel 9:15, Psalm 138:7-8, Isaiah 49:14-16, Psalm 19:1, Deuteronomy 7:8, Isaiah 64:8, 1 Peter 5:6, Ezekiel 37:1, and John 3:16 (this one doesn't have the word hand but it captures well the greatest gift that comes from our Father's hand). Blessings on your study!
In Christ,
Pastor Liebich