Rev. Jonathan Liebich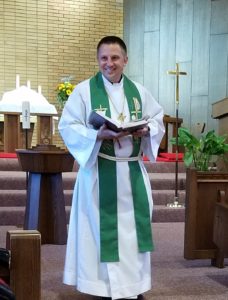 Rev. Jonathan Liebich was born in Toledo, Ohio, the oldest son of Dennis and Lois Liebich. He has a younger brother, David. Pastor Liebich spent most of his childhood in the St. Charles, Missouri area where he attended Zion Lutheran School and Lutheran High, St. Charles. During these formative years, Rev. Liebich's father served as missionary at large, starting Messiah Lutheran Church in 1987. Growing up in a mission church had a large impact on Rev. Liebich's decision to go into the ministry.
Rev. Jonathan Liebich attended Concordia University in Seward, Nebraska, where he received his B.A. in Behavioral Sciences. He met his wife, Rebecca, while at Seward and they were married in June 2002 before he began his studies at Concordia Seminary in St. Louis, Missouri. In August of 2004, Rev. Liebich accepted the assignment to serve as vicar for Christ Lutheran Church in Hebron, Connecticut where he continued to learn and grow under Rev. Ralph Sackschewsky. Upon completion of vicarage he returned to Concordia Seminary for one more year of training.
After graduating from Seminary, Rev. Liebich was ordained in June of 2006 at Messiah Lutheran in Weldon Springs, Missouri where his father had previously served for 15 years as pastor. He was installed as pastor of Christ Lutheran Church in Hebron, Connecticut in July. Rev. Liebich served as pastor of Christ Lutheran for almost seven years during which he and Becky were blessed with the birth of two boys, Benjamin and Paul. In 2013, Rev. Liebich accepted the call to Trinity Glendora where he was installed on July 28th.
Pastor Liebich's interests include sports and board/card games. He likes to go for bike rides, play tennis and golf, and has coached baseball and football. He enjoys exploring God's creation – – hiking with his family to waterfalls, body surfing in the ocean, looking for lighthouses, etc. He is grateful to God for the privilege of serving His church as a pastor, and is excited to be serving the Lord at Trinity Evangelical Lutheran Church of Glendora.